Softens and brightens dry, rough and darkened skin around elbows and knees.
Between the freezing winter temperatures and dry heat emitting from our radiators, we can't seem to lock in enough moisture. And our elbows take a brutal beating thanks to the dehydrating effects of this season.
When you roll up your sleeves or wear anything that is sleeveless, thick, parched skin is revealed. A specialist cream for elbows and knees from the "Boroplus" range that combines the goodness of medicinal herbs and natural oils along with the advanced science phyto creams. It softens and brightens rough and darkened skin. It's effective because of unique triple action
3-way action of Boroplus Intensive Therapy Elbow & Knee Cream
1. Accelerates skin renewal by exfoliating dead skin cells, and revealing softer new skin - thus relieving itching, feeling of tightness, discomfort and other effects of excessively dry skin.
2. Lightens the skin and prevents the formation of age spots in problem areas.
3. Increases the level of moisture in the skin - instantly absorbs and provides long-term protection of the skin from dryness.
This is a special product for those who need specialized care for the delicate skin of the elbows and knees, and are more prone than others to dryness, dehydration, thinning and peeling of the skin. This product is aimed at the effective care of dry thick skin around the elbows and knees.
How It Works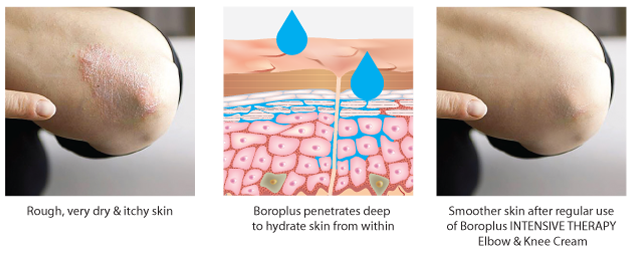 Boroplus Intensive Therapy Elbow & Knee Cream is for people who have dry, thick and dark skin over the joints, especially the exposed skin over knees and elbows. It is a daily dry skin care cream for everyday use to keep your skin feeling soft, supple and healthy.

This cream is suitable for all family members and can be useful for men and women of all ages.
Conventional creams and lotions are not effective on very dry and thick skin due to lack of moisture content. The cream delivers 4x moisture boost to heal epidermal dryness. The 'Nature Shield Complex' system combines traditional knowledge of Ayurvedic medicine and modern science to enhance the therapeutic effect of natural herbs.
Natural ingredients which restore, nourish & lighten skin:
1. Rich in vitamin E, Garcinia oil softens and nourishes the skin, smoothing the bumps, eliminating peeling.
2. Aloe Vera intensively nourishes and moisturizes chapped skin and restores its structure.
3. Licorice extract brightens and evens out the skin tone on darkened areas of the skin, prevents the appearance of age spots.
4. Wheat germ, contains large amounts of vitamin E contribute to the regeneration of skin cells, eliminating roughness and eliminate the problem of dryness.
Boroplus Intensive Therapy Elbow & Knee cream is used as:
1. Intensive care for dry and sensitive skin of the elbows and knees, it also nourishes and moisturizes the skin, restoring the skins optimum water balance.
2. First-aid cream used for the eliminating the unpleasant sensations of extreme dryness and cracked skin.
3. A means of constant care of thick skin on the elbows and knees, preventing the re-emergence of problems.
Ideal in the following cases:
• Dry and rough skin on the elbows
• Dry and rough skin on the knees
• Dark areas on elbows and knees.
Instructions for use:
Apply liberally on clean dried out skin over the elbows and knees and rub in a circular motion. For maximum results use the cream twice a day. Visible results can occur within 14 days. Moisturizing your elbows before bed and then slipping on an open-ended sock helps to soften dry skin. But keep in mind, using petroleum jelly regularly may clog pores and aggravate people suffering from psoriasis and other skin conditions.